Soon after we selected Louise Saxton, our first resident artist from Australia (see our interview http://360xochiquetzal.com/louise-saxton/), we were contacted by Janet deBoer, the publisher of Textile Fibre Forum, the premier fiber publication in Australia. Janet wanted to do an article about Louise in the context of her upcoming residency. A nice email exchange ensued, during which I sent Janet some images of my work as a way of explaining my penchant for artists working in fiber.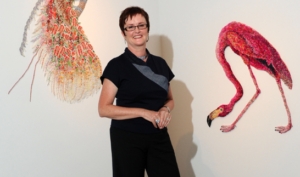 When Janet saw my work, she immediately wanted to do an article about my artwork and 360 Xochi Quetzal! It was very affirming to get such an enthusiastic response from Janet, who is a household name in textiles.
 I have read Textile Fibre Forum for many years in order to follow the developments in the vibrant fiber art community down under. I was very honored to be included in this international publication. My 2-page interview appeared in Issue No. 166 (see cover photo).
The interview covers some topics that I don't usually get to address, like my ambivalence about using digital imagery, the evolution of my environmental concerns, my background in textile design and why I started the 360 Xochi Quetzal Artist Residency Program www.360xochiquetzal.com
http://artwearpublications.com.au/magazines/single-issues/textile-fibre-forum-magazine.html