"...sometimes, like meditating, I need to visually take a breath. After every two or three richly colored pieces, I need to make a piece in white."
I love color.  Deep, saturated color that elevates your heart rate.  Most of my work over the years has been done in earth tones and rich jewel tones. But sometimes, like meditating, I need to visually take a breath. After every two or three richly colored pieces, I need to make a piece in white.
Over the years, I have loved artists who work predominantly in white. Most of them are Asian. There is an Asian aesthetic that embraces a quiet, modest, monochromatic white color scheme.  I find these pieces brave and confident in their insistence on using white to capture our attention. When you strip color away, you are left to contemplate form, materials and content without distraction.
I first saw Zhu Jinshi's immersive sculpture installation, Boat, at the San Antonio Art Museum in Texas. Boat and a subsequent piece The Ship of Time envelop the viewer who must walk through the piece to experience it. The Beijing-based contemporary painter made these pieces using white and naturally colored Xuan (rice) paper.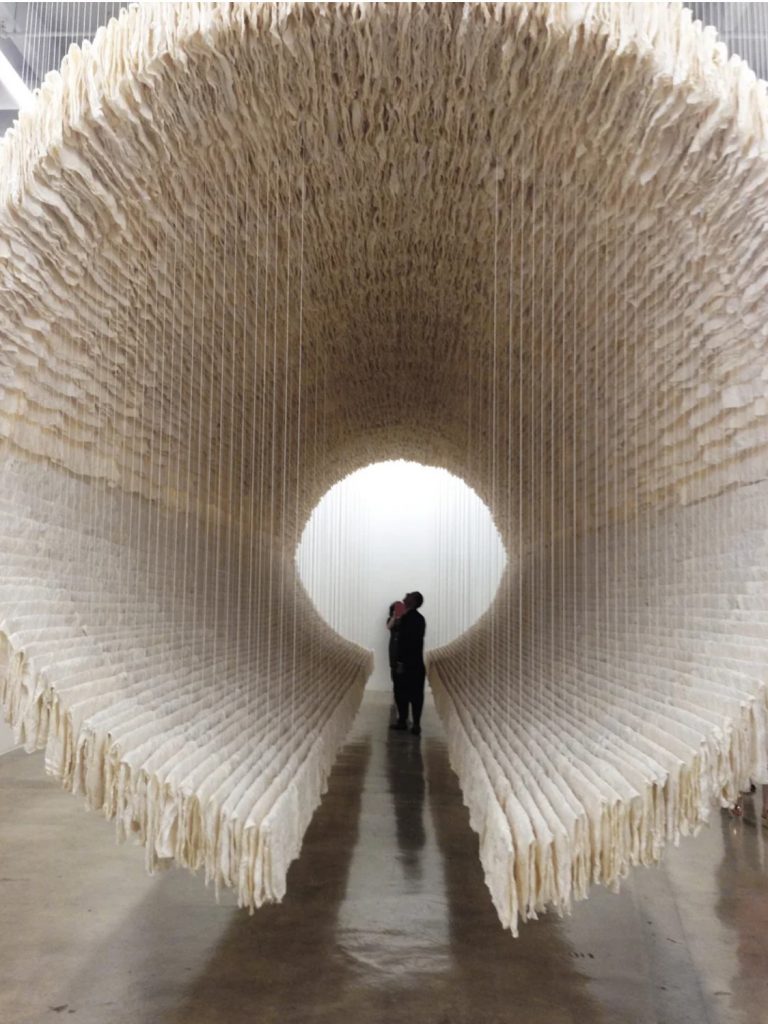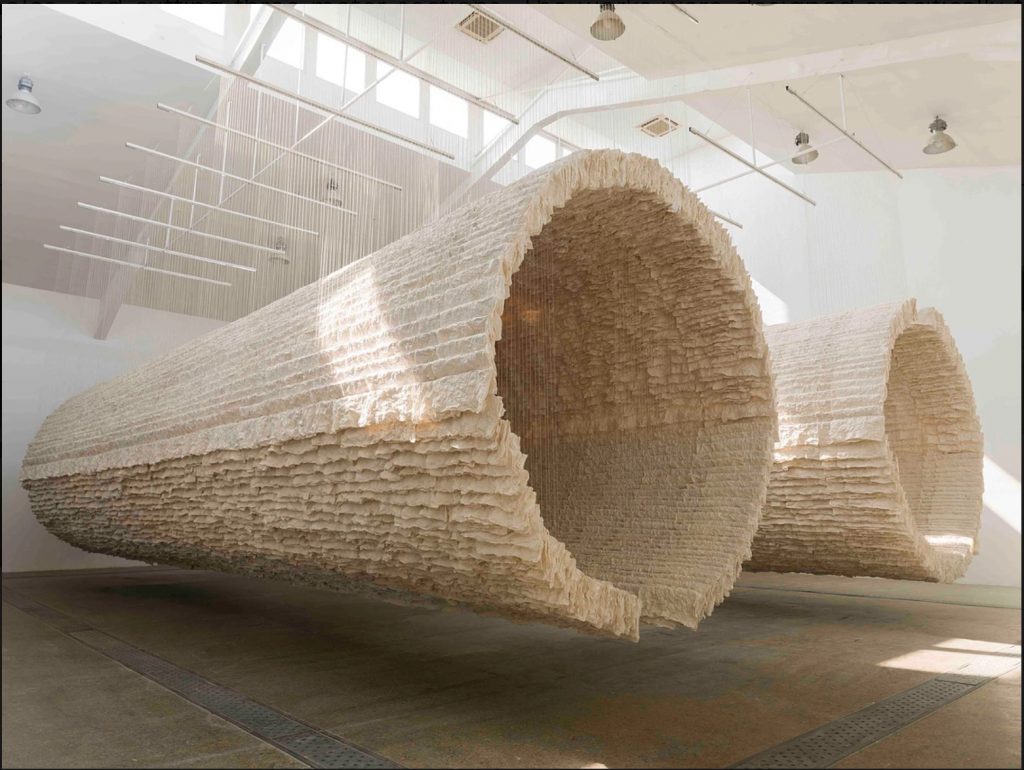 Chun Kwang Young, a Seoul-based artist, makes complex abstract constructions, fabricated with hundreds of individual component shapes wrapped in mulberry paper. Each triangular component is covered with Korean and Chinese characters inspired by medicine packets from his childhood. While not all his work is white, most of it is monochromatic.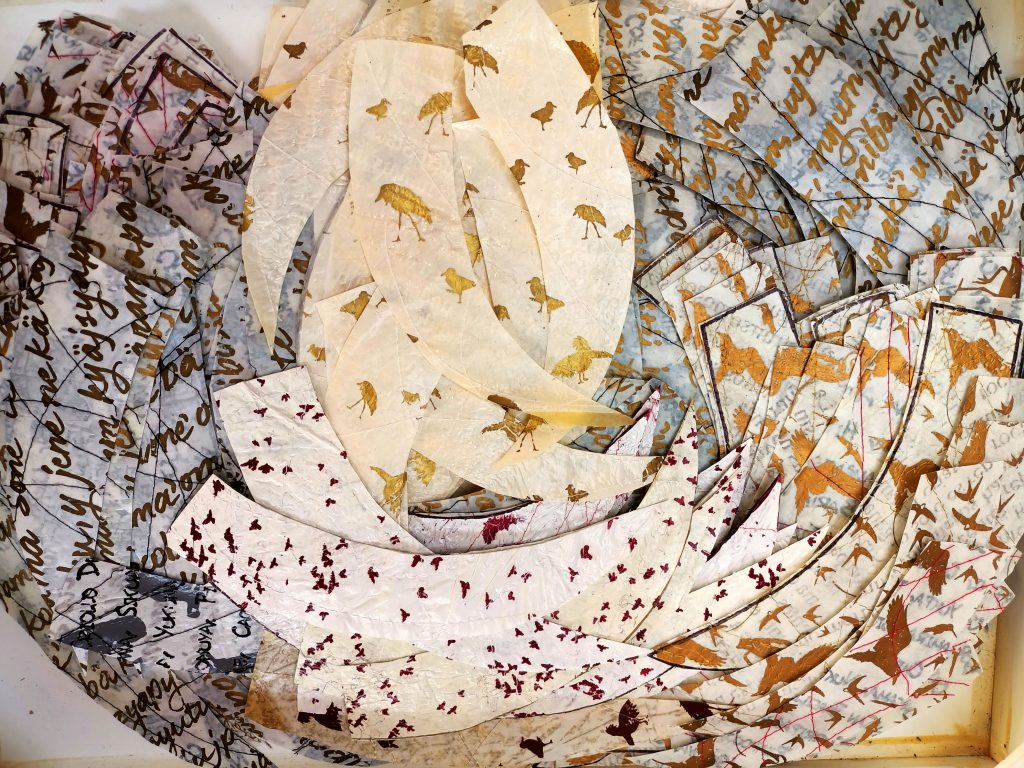 Over the last five years I have gradually created a series of white pieces using feathers made from recycled plastic bags screen-printed with images of endangered birds and endangered languages. For the white pieces, I print on white plastic bags and although the overall impression is white, there are many colors in play.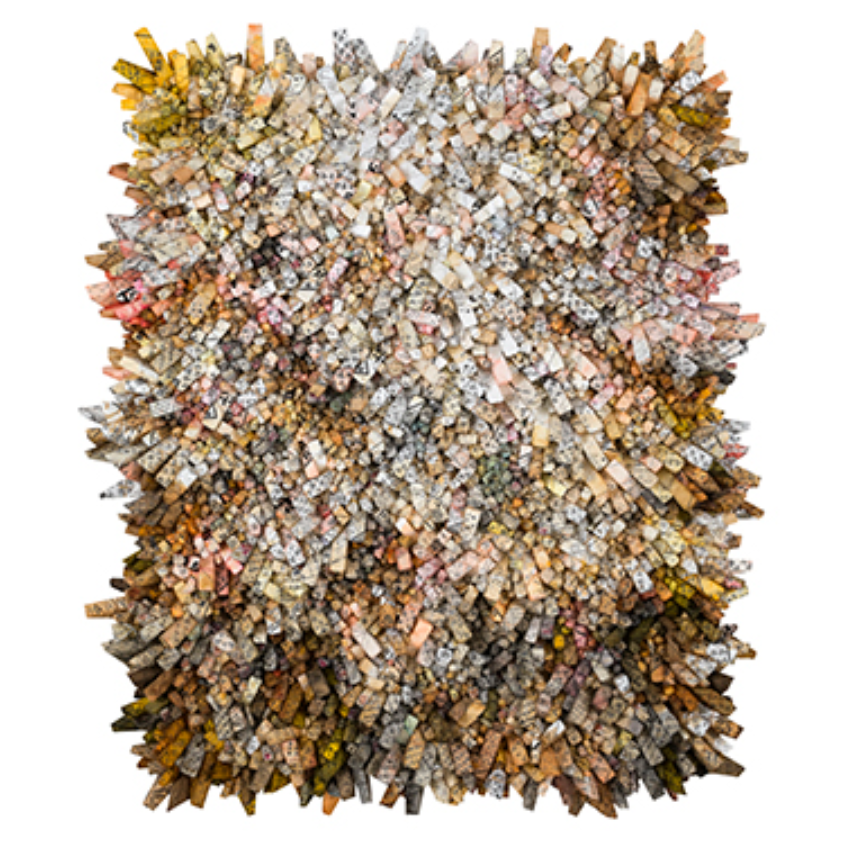 The first piece to incorporate my signature plastic feathers was Abandon. The title is a play on words because it evokes that lovely sense of letting go. However, the darker meaning is that we have abandoned our birds by letting our appetite for development prevail over protecting bird habitat and therefore bird species. Abandon is currently traveling throughout Mexico as part of the Rufino Tamayo Bienal, which will culminate in an exhibition of the top 51 painters in Mexico at the Museo de Arte Contemporaneo Internacional Rufino Tamayo in Mexico City.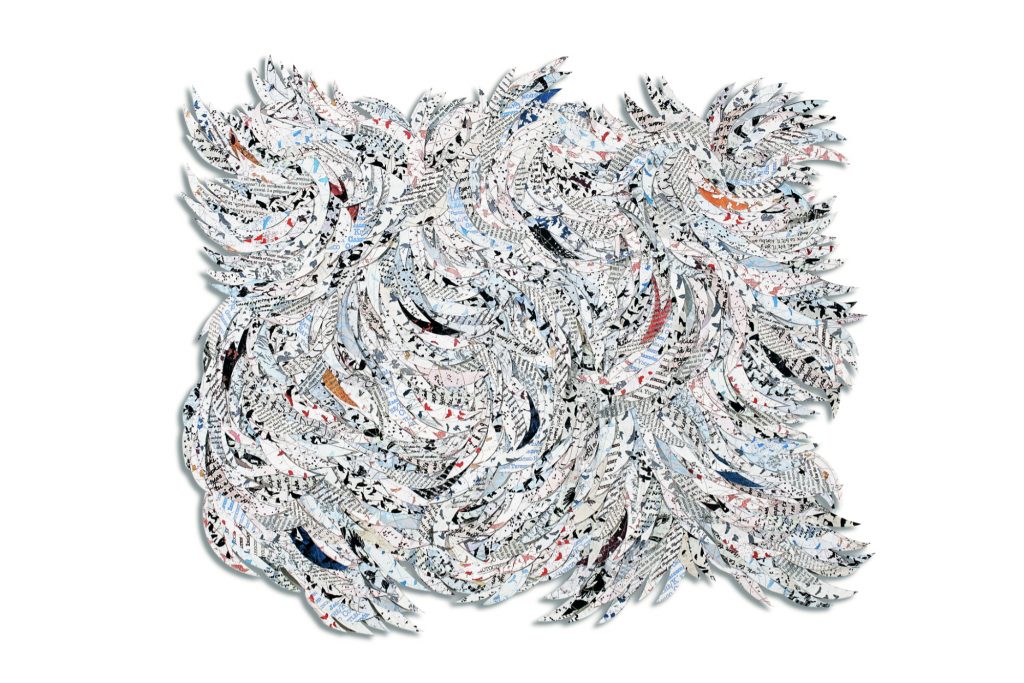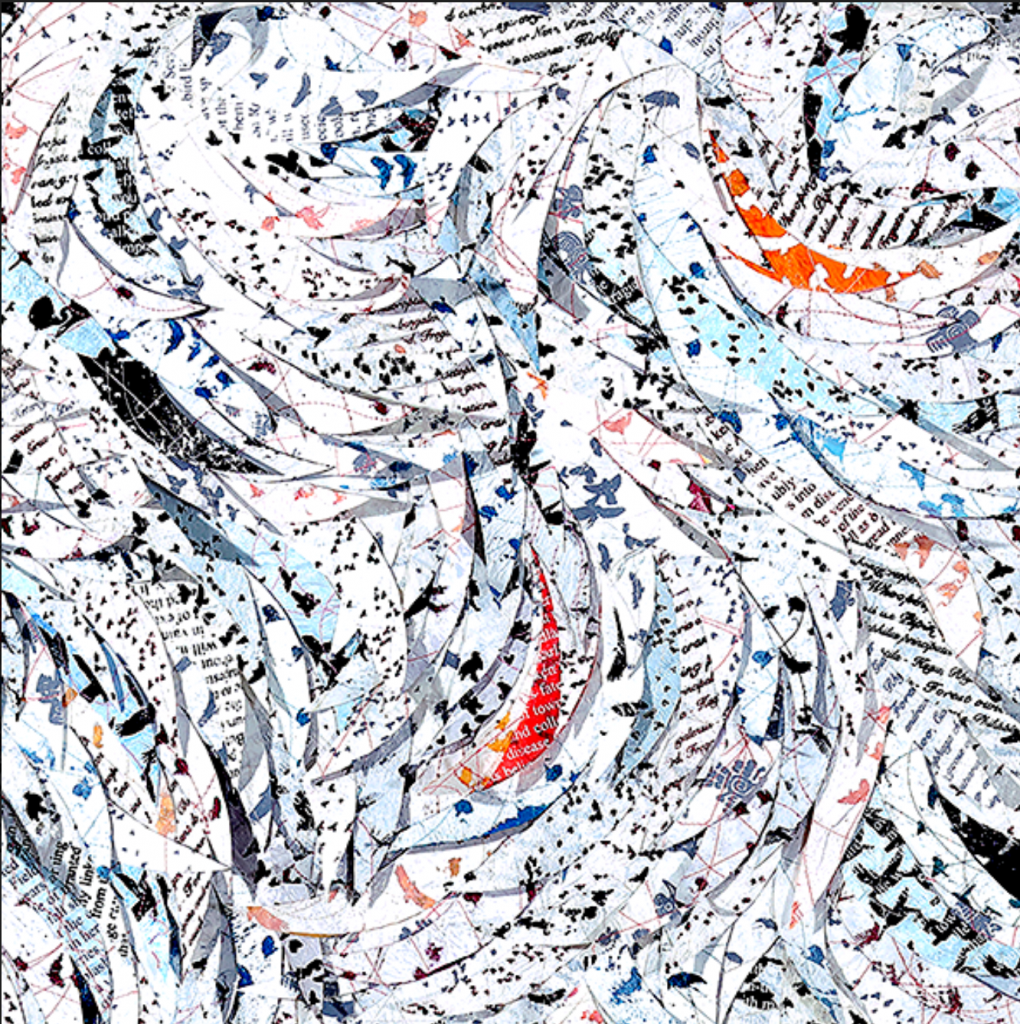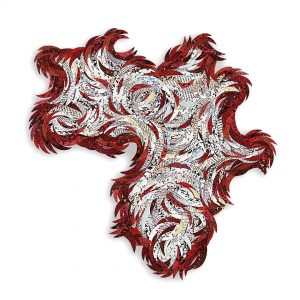 After the intensely colored Cambodia series where all five pieces appeared in the shape of the country of Cambodia, I was ready for another white piece. Kansai was also based on a map, this time on the state of Kansai in Japan. Whereas Cambodia referred to the last remaining habitat of the Bengal Florican, Kansai is a state where there are 41 endangered bird species. Like Abandon, Kansai was predominantly white but it has a border of red feathers. The red and white color scheme is a nod to the colors of the Japanese flag. In late 2020, I built a crate for Kansai so that she could be exhibited in the Art Textile Biennale, which was traveling to several venues throughout Australia.
Several map-based pieces later, it was time for another white piece. Vortex was my first foray into applying feathers to a sculptural form. Using a spiral shape made from iron, bubble wrap and a coating of paper mache, I coated the form with white feathers that gradually became darker towards the center. This piece was featured on the cover of SAQA Journal, a wonderful magazine that highlights work by contemporary art quilters.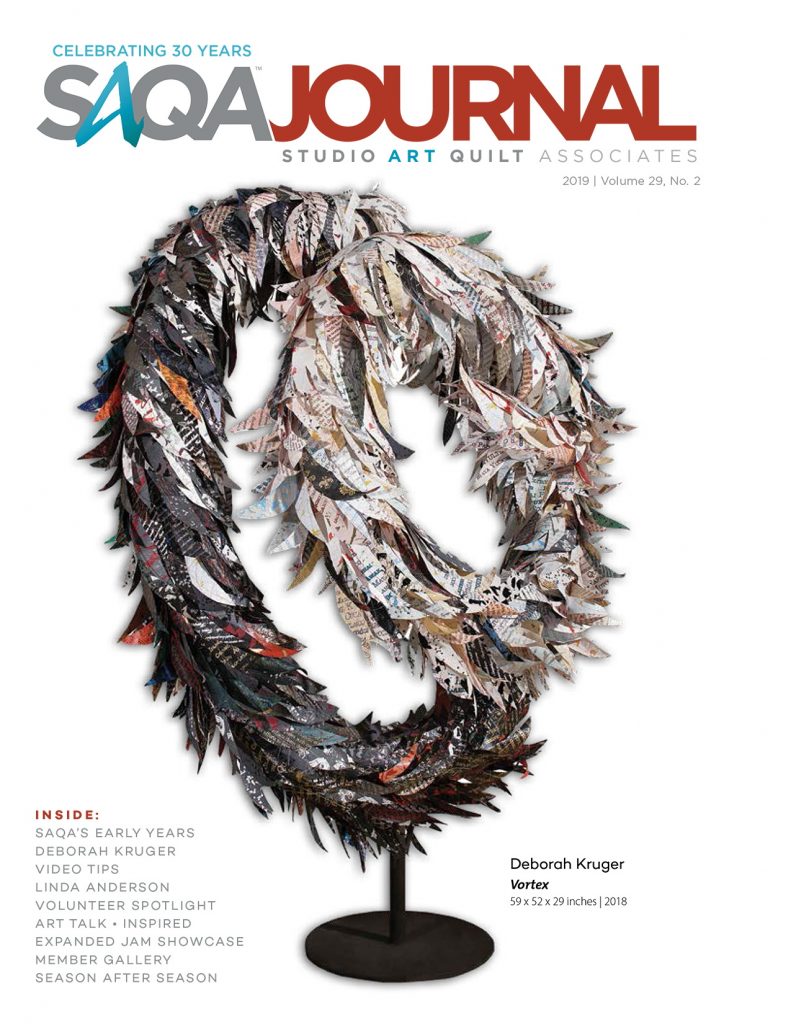 During the pandemic, I started a huge mural-sized piece titled Accidentals. It was a riot of color and it was no surprise that I needed a visual break afterwards. Devotional was born out of the desire to calm my mind and body and to create a piece that would be an ode to our disappearing birds. I wanted a title that would evoke the prayers one might say to petition a higher source for saving birds.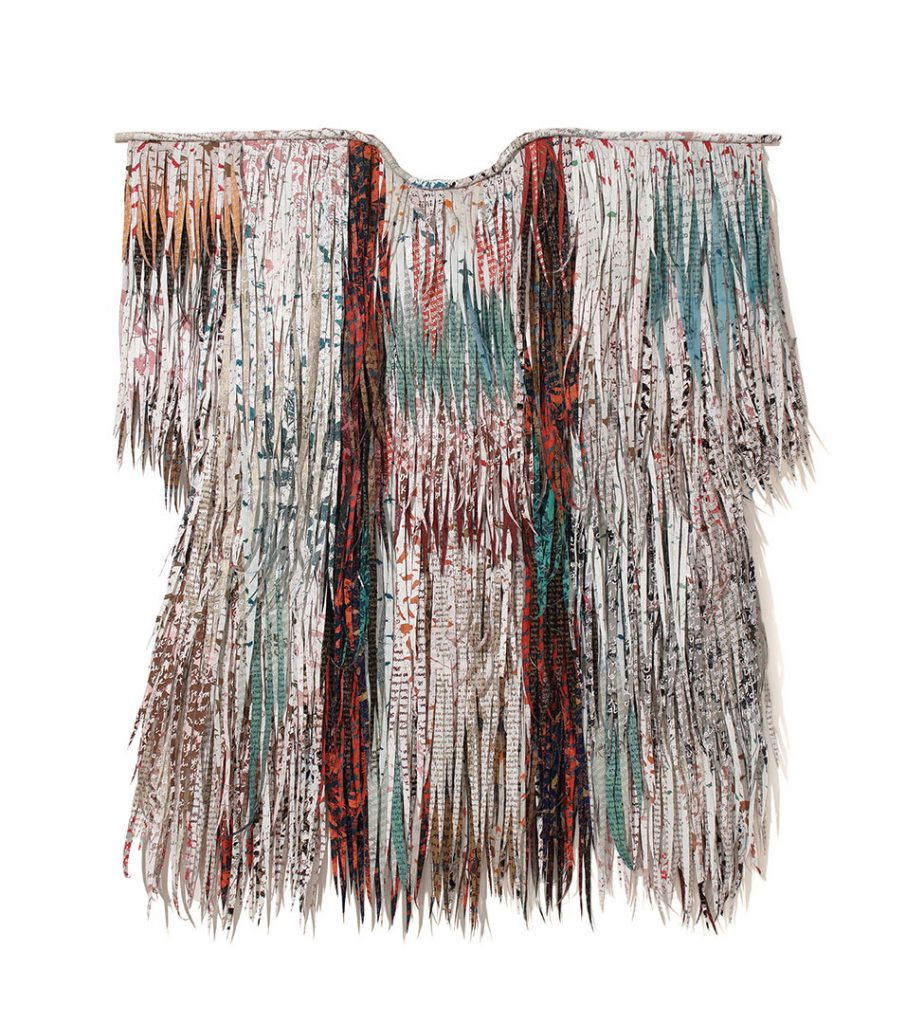 I loved the new tail feather form that I used for Accidentals and Devotional and created a smaller piece, Ropa Blanca that was inspired by the huipils woven and worn by indigenous women in Chiapas, Mexico and in Guatemala. Ropa Blanca was shipped to a gallery in Madrid as soon as it was finished. Which means there is another white piece in the wings!
My sense is that making white pieces will remain part of my art practice for many years to come.