I don't know about you, but I have seen art that has changed my life. Pre-pandemic, I had this experience numerous times. On one unforgettable day in 2012, I walked into the Brooklyn Museum to see the El Anatsui Gravity and Grace retrospective and the monumental scale, the beauty, the materials and the meaning just transformed me entirely. 
For starters, seeing work on such a massive scale cracked something open in me. It gave me permission to imagine working on a larger scale, larger even than myself. There's something about working on a grand scale that puts us into perspective. We all know that we are mere specs on this earth and that our time here is limited. Working large enforces that fact and creates a tangible environment that locates us in time and space.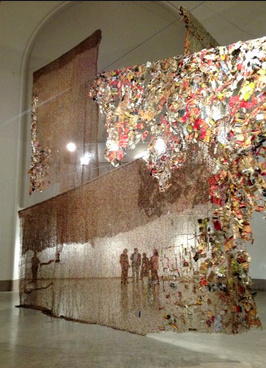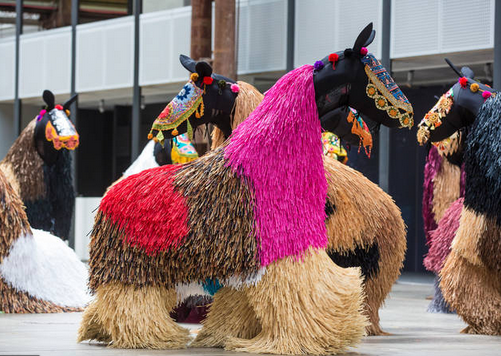 I also had the thrill of seeing Nick Cave's Horse Soundsuits performance in 2013 at Grand Central Station in New York City. Cave, whose fashion background has long informed his work, created 60 horses who were inhabited by young Alvin Ailey dancers. His use of natural and fashion materials, his scale and his collaborations with musicians and choreographers have deeply inspired me. His willingness to bring his gay, Black identity into his work gives me permission to pour my identities and alternative materials into mine.
Here's one more example. In 2005, after 26 years of planning and 21 million dollars raised, Christo and Jeanne-Claude presented The Gates for two weeks in New York's Central Park. They created over 7,500 16-foot high gates made from saffron fabric that ran 23 miles throughout the park. The scope and audacity of this vast public art project will stay with me forever. It was beautiful, evocative, and massive. Once again, the scale rocked my imagination. As did the logistics.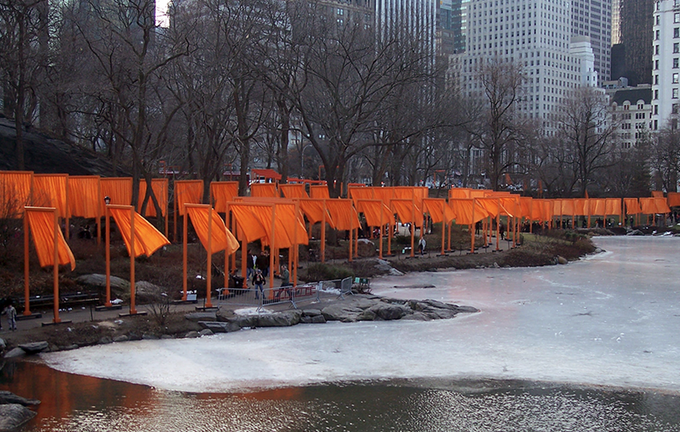 These three exhibitions all helped give birth to my new work begun in 2016 that began to use recycled materials and raise consciousness about the plummeting bird population world-wide. Thanks to a larger studio in Mexico, where I could afford the space and staff, I began to work on a much larger scale. Themes of environmentalism, eco-feminism, Judaism and design and decoration populate my work without apology. I stand on the shoulders of the artists cited above, each of them giving me permission to bring all my passions and aspects of myself into my work.